In our September 2022 Perspectives article, Tipping Point – Canada's Corporate Sustainability Reporting, we noted that "slower-moving companies and financial institutions that do not disclose their emissions, make net zero emissions pledges and detail interim targets may find themselves increasingly disadvantaged in the transition to a low-carbon economy".
Following that assertion, we launched a survey across 133 Canadian and US companies held by Pembroke Management Ltd. to gauge their progress regarding their disclosures of climate-related risks and opportunities. Pembroke is a public supporter of the Task Force on Climate Related Financial Disclosures (TCFD), and we believe that the TCFD, along with the Science-based Targets Initiative (SBTi), are key global frameworks that will support the reporting of non-financial data in integrated reporting.
The intention of our survey is to understand the extent to which our portfolio companies have integrated themselves in these global frameworks for non-financial reporting and begun their transition towards Net Zero.
Our survey posed five questions:
Does your company currently report its climate-related financial risks or opportunities?

Does your company report climate-related financial risks or opportunities using the TCFD framework? If not, do you follow another framework?

If you do not currently report your climate-related financial risks and opportunities, would you commit to reporting climate-related financial risks or opportunities using the TCFD framework by 2023, 2024 or 2025?

Has your company announced a Net Zero Target for 2050 or sooner along with interim milestones?

Have your company's targets been verified by the Science-Based Targets initiative (SBTi) or another organization?
A Future of Greater Accountability for ESG Reporting
At the time of writing, 61 of the 133 companies contacted had responded to our questionnaire (a 46% response rate). Of these 61 companies, about half report their climate-related financial risks or opportunities, with 17 reporting using the TCFD framework. Currently, there is no enforcement for integrated reporting within Canada and the US. However, there have been strides taken in both countries to encourage greater ESG reporting transparency.
In the US, the SEC announced the creation of a Climate and ESG Task Force in the Division of Enforcement on March 4, 20211. The focus of this group is to analyze disclosures and compliance issues, as well as any material gaps and misstatements in an issuer's disclosure of climate risk under any existing rules. The SEC has also been publishing "Proposed Rules" in which they are seeking to standardize ESG disclosure practices for investment advisors and investment companies to promote consistent, comparable and reliable information for investors.
The government of Canada has outlined in their 2022 budget a commitment towards mandatory reporting of climate-related financial risks for financial institutions, following the TCFD framework2. The Office of the Superintendent of Financial Institutions (OSFI) will be the division overseeing this regulatory change, using a phased approach, starting in 2024. These initiatives point towards a future of greater accountability within ESG reporting and disclosures.
Smaller Companies Using Reporting Frameworks Could Double in Three Years
Almost 13% of our holdings currently report using a framework (close to 30% of the sample that answered the questionnaire), and that number is set to double within the next three years [Exhibit 1]. Yet, nearly half of companies responded they had no action plan in place. Many constituents of this group are still waiting to see where the regulations will go in the future, indicating that further government intervention will be required to drive real change.
Exhibit 1: Issuers Still Waiting for Regulation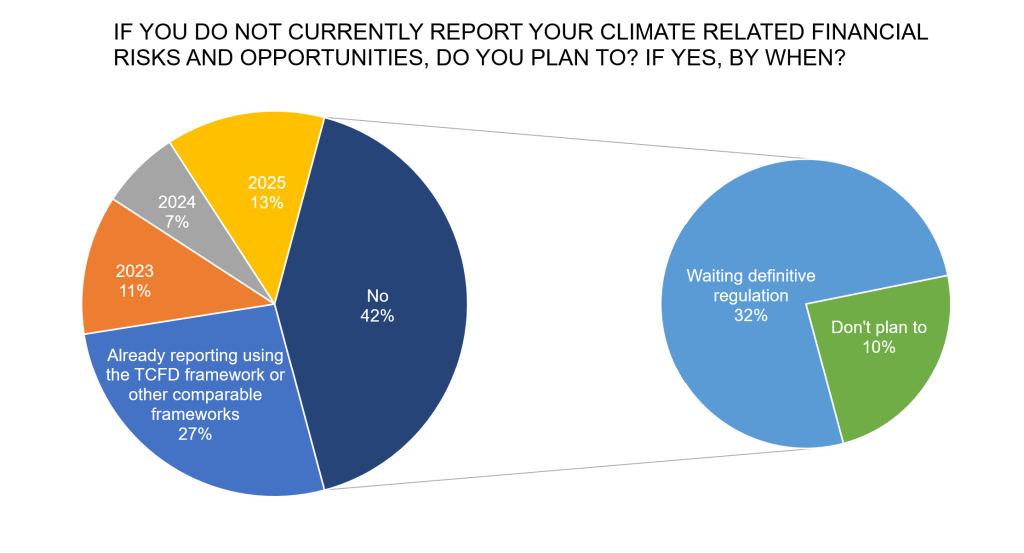 Source: Pembroke, February 2023. 2nd Annual Pembroke Climate Disclosure Survey (2022).
Implementing new reporting structures within an organization takes time, resources and a willingness to do things in a different way. It could present an even bigger challenge for small corporations that have limited resources3. While a growing number of countries are pushing companies and financial institutions to report their climate-related risks on a mandatory rather than voluntary basis, these companies who have proactively decided to take part in the global initiative will have an advantage compared to those waiting for it to become a mandatory filing3.
Setting Targets for Carbon Emissions Reduction
As part of our analysis, we also wanted to understand which of our holdings had committed to the Paris Agreement, calling for the reduction of global warming to no more than 1.5 °C. In order to achieve that goal, it is estimated that carbon emissions need to be reduced globally by 45% by 2030 and reach net zero by the end of the first half of the century. Of the companies that responded to the Pembroke survey, about 13% have set a target to eliminate their total greenhouse gas (GHG) emissions by 2050.
Exhibit 2: The Paris Agreement or the Paris Disagreement?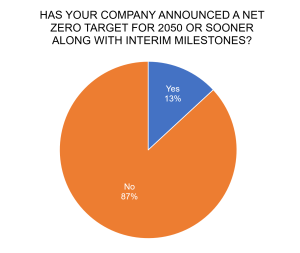 Source: Pembroke, February 2023. 2nd Annual Pembroke Climate Disclosure Survey (2022).
About half of that group, precisely eight Pembroke portfolio holdings, has signed up with the Science-Based Targets Initiative (SBTi), a global body that aims to support companies worldwide in reaching their climate-related targets.
It is expected that only organizations that are serious about the ambitious endeavour would commit to the initiative's robust methods and guidelines. As a matter of fact, since January 31, 2023, companies that sign up with the SBTi need to submit targets within 24 months of their application to keep their committed status active.
According to recent data from SBTi, Canada lags in terms of countries that have the most approved science-based targets and commitments, as seen in absolute terms in the chart below. On a relative basis, when we look at the number of commitments in proportion to each country's respective total number of domestic publicly listed companies, we find the disparity to be most noticeable compared to the European countries. The UK's 401 committed companies as of December 2021 represents an impressive 33% of its universe of domestic public corporations, and France and Germany both have respectively 19% and 15% of their public corporations involved with the SBTi. Canada also falls behind the US, although not as dramatically, with only 2% of its domestic publicly traded companies represented compared to 6% for the US. Momentum seems to have picked up for all regions in 2021 and significant growth of new commitments is expected in the years to come.
Already, almost half of the 4,567 companies working with the SBTi to achieve their goals have approved targets. These companies represent over a third of the global market capitalization. At the end of 2021, 1,680 companies working with SBTi had made net-zero commitments 4.
Exhibit 3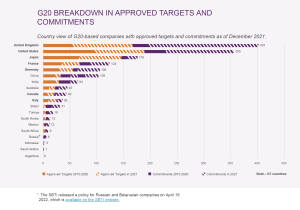 Source: SBTi Progress Report 2021.
Why Should We Care?
As widespread adoption of a uniform framework unfolds, "companies' and investors' understanding of the potential financial implications of climate will grow, information will become more decision-useful, and risks and opportunities will become more accurately priced, allowing for the more efficient allocation of capital" according to the 2017 TCFD Report5.
In the meantime, "as financial institutions increasingly make funding decisions based on ESG performance, they will play a key role in shifting the allocation of capital to lower-emitting companies and accelerate the decarbonization transition for heavy emitters."6
Concurrently, discerning stockholders who understand the financial risks associated with the transition towards Net Zero will likely choose to invest in companies that have a clear, verified and transparent road map to get there.
Looming regulation pressures are already in effect, whether such compulsory measures materialize or not. As we outline in our stewardship policy as investment managers, Pembroke is supportive of our holdings that are proactive in engaging in climate-related initiatives and encourage disclosure of such activities. Regardless of size, these efforts are likely to have positive environmental impacts. With proper disclosure, the undertakings of these initiatives can be appropriately considered in our financial due diligence process. Where the financial implications are not clear, it provides us an opportunity to engage with management teams to understand the rationale, which feeds back into our due diligence work and helps us satisfy all aspects of our investment in a business.
As ESG momentum continues to build, we expect that North America will start to catch up to Europe and Asia, and that next year's results to the Annual Pembroke Climate Disclosure Survey will see further improvement. Stay tuned.
Other Articles Of Interest