The theme of this quarter's Perspectives newsletter is cross currents. Just as cross currents make navigation difficult at sea, the cross currents on the global investment landscape are challenging many investors who are trying to navigate the global capital markets.
The growth which investors are looking for to sustain the post-pandemic recovery is threatened by deepening supply chain issues and labour shortages. The supply chain issues and labour shortages are occurring amidst a squeeze on energy prices caused by short-term supply-demand mismatches, and the longer-term energy transition that is underway.
Along with energy price inflation and continually rising real estate prices, food price inflation is resulting from both the short-term supply chain and transportation disruptions, and from climate-related pressure on many growing regions. Overall, global price increases are putting upward pressure on interest rates.
Our guest columnist, Caroline Miller, Chief Asset Allocation Strategist at Alpine Macro, addresses these cross currents and the implications for global markets in her article Cross Currents in the Global Economy.
In our US, Canadian, and international equity strategy discussions, we note that while there have been oscillations in the leadership of the growth sector and the value sector, global energy and financial sector companies are generally leading the way. As for Pembroke's strategies, they find interesting growth opportunities in many different industries, such as homebuilding, online advertising, financial exchanges and executive training.
In our On the Road article, we highlight Kornit Digital, a US-listed manufacturer of digital inkjet printers serving the global fashion industry from its headquarters in Israel.
Cross currents are not a new phenomenon: Pembroke has been investing in change since 1968. While it is important to hold our values and philosophy constant, it is also important to evaluate what global cross currents mean for our firm, our clients, and other stakeholders.
One of the trends that we have focused on is the climate transition and what it means for the investment landscape, for Pembroke's business and for our clients. In this issue of Perspectives, we explain Why Pembroke Supports the Paris Agreement and how we are aligning our portfolio risk management framework with frameworks such as the UN Principles for Responsible Investment (PRI) and the recommendations of the Task Force on Climate-related Financial Disclosures (TCFD).
We hope you find this issue of Perspectives informative and encourage you to contact us with your comments and suggestions.
Sincerely,
The Pembroke Team
Feature Article

Cross Currents in the Global Economy
A survey of the global economic landscape reveals the contours of an uneven recovery from the pandemic-induced recession. The global economy is undergoing a transition from a re-opening mini boom earlier this year to a resettlement period of slower but still above trend growth into 2022.
 The two largest economies – the US and China – are at different phases of retreat from emergency macro policy settings, while improved global vaccine penetration is gaining on the latest viral wave.Read More
ARCHIVE SEARCH
OR DOWNLOAD PDF of LEgacY ISSUES: (2019 and earlier)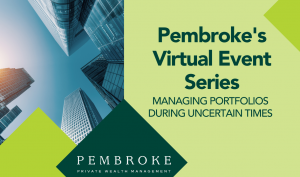 Tax Tips and Traps You Should Avoid
On Wednesday October 6th, we held a virtual event dedicated to foreign investments and US Citizens Living in Canada.
This discussion not only covered the tax implications of investing outside Canada but also covered the tax implications for US citizens living in Canada, and the considerations for those taxpayers owning Canadian mutual funds.  The session was led by Stephanie Pantaleo and Salomon Gamache.
If you missed this virtual event or any other, you can replay our virtual lunches here.