During the first quarter of 2021, world stock markets advanced with strong performance from industries including tourism, travel, and oil and gas, as confidence built that the global vaccination drive would bring the world out of its pandemic paralysis and breathe new life into shuttered sectors. While the vaccination programs have shown exciting progress in many regions, other regions including India, parts of Europe, and Brazil, have experienced new or simply continued waves of infection. Reopening remains a multi-speed, start-stop, affair, with cross-border travel and in-person company visits still not possible.
Subject to this reality, our On the Road article focuses on the value we have been able to find in our own backyard with an update on Tecsys, a company we found seventeen blocks from our office back in December 2012. Still a portfolio holding today, Tecsys provides supply chain solutions to the healthcare, distribution, and retail industries.  
Our Canadian Commentary notes some of the implications of coordinated expansionary monetary and fiscal policies. With heightened inflation expectations, value stocks outperformed growth stocks, and technology stocks pulled back, reversing some of the gains made by the sector in 2020. The US Commentary highlights similar trends including the significant rally in oil and gas companies where the strategy has no exposure.
The International Equity Commentary, picking up the same global theme of rotation adds that the broadening of global economic growth in recent months has supported the performance of stocks in value-oriented industries across the world that will benefit from increased economic activity. An important aspect of the recovery in value stocks is that the spectre of financial distress in these industries may have declined.  
Reassurance from the Federal Reserve that short rates would remain near zero, coupled with government support for the economy proved good news for equity markets but less so for bond markets. Our Fixed Income and Balanced Strategies Commentary notes that the US government bond market recorded one of its worst quarterly performances as mid and long-term yields moved sharply higher. In Canada, inflation fears pushed the Canadian government bond market returns into negative territory as mid and long-term yields moved sharply higher. Investment grade corporate bonds benefitted from modest spread tightening in the quarter but not enough to overcome the significant impact of rising government bond yields.
In this issue of Perspectives, we review the performance of all our strategies against this shifting backdrop. We hope you enjoy the material and encourage your questions and comments. For all of these, do not hesitate to contact your Pembroke client service representative.   
ARCHIVE SEARCH
OR DOWNLOAD PDF of LEgacY ISSUES: (2019 and earlier)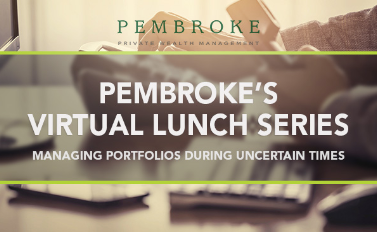 Virtual Lunch Series
Managing Portfolios During Uncertain Times
As we continue to share our insights while maintaining appropriate social distance, we invite you to join us for a virtual lunches/brunches:
Monday May 6th at 5:00PM, focus on Portfolio Manager Discussion with Jeff Tory

An invitation with details was sent out by email, if you did not receive a copy and wish to join our virtual lunch, please contact your Pembroke Representative for details.
If you missed any of our Pembroke Virtual Lunch Series, you can replay our virtual lunches here.
Business Update
Growing Together – Since 1968
During the first quarter of 2021, we formed the Corporate Governance and Responsible Investment Committee to bring additional focus to activities that we, as long–term investors, have always felt were core to our investment philosophy.  This committee, with members from our investment team, operations team, and client service team, reports directly to the firm's managing partner and is responsible for coordinating the firm's stewardship activities.  These include responsible investing activities like developing environmental, social, and governance (ESG) information about our investments, making ESG-related inquiries and engagements with our companies, proxy voting, reporting our activities to clients and external organizations like the UNPRI, and exploring other affiliations that will support our stewardship activities.    
During 2020, we announced the addition of five new colleagues in the areas of financial planning and client services. These new hires represented a significant investment in new skills and resources for our clients. We are excited about this growth and the ability to expand what Pembroke can offer.  
Continuing with this push, Mathieu Foucher has joined Pembroke's Montreal office in the newly created role of Marketing Communications Manager. Mathieu will work closely with the investment and distribution teams to enhance the firm's marketing and communications efforts. Mathieu has over a decade of experience working in similar roles and earned a master's degree in literature from Université du Québec à Montréal (UQÀM) in 2003. Mathieu is a published author, fluent in French and English.  
IN THE COMMUNITY 
While group events are still mostly out of the question, several Pembroke employees participated individually and virtually in the 15th edition of the CHU Sainte-Justine Foundation's Winter Triathlon. This was the first edition to be held virtually and a great esprit de cœur was developed by sharing the daily results of the individual efforts over a week. Collectively, triathlon participants travelled over 10,000 km between February 22nd and February 28th by running, cross-country skiing, skating, walking, and indoor cycling.   
Pembroke's team members were Martin Tzakov, Nicolas Chevalier, Ian Aitken, and David Whittall.  Martin Tzakov is currently a member of the CHU Sainte-Justine Foundation's Winter Triathlon committee and Nicolas Chevalier was one of the founders of the event and the President of the Winter Triathlon for its first two years. The event raised a total of $787,923 for the CHU Sainte-Justine Foundation. 
Pembroke was also the lead sponsor of the 55th edition of the Canadian Ski Marathon which took place virtually between February 6th and March 7th. Over 2,100 skiers took part, completing distances ranging from 10km to 100km wherever they happened to be. Most people skied close to home, but one group of intrepid skiers completed the Coureur des Bois Gold event in the Antarctic. Pembroke would like to congratulate the organizers of the event and all those who participated to "Keep the legend alive". The Montreal Gazette published a short article about the event.